Himara (Himarë) Albania: Beaches and Places of Interest
Himare is a small coastal town in Albania. It was one of our favourite places to visit in Albania. This charming region is blessed with an abundance of natural beauty. Picturesque winding coastal roads and hilltop castles offer spectacular views over the Ionian Sea. Himara is part of the Albanian Riviera and has a wide choice of beaches. There are popular tourist beaches with rows of sun loungers and umbrellas and many quiet coves along the coast. The area is also known for outdoor activities and for some interesting historical buildings.
Himarë is a small town that invites people to relax and unwind by the Mediterranean Sea. It is the perfect place to spend a few days here and soak up the idyllic atmosphere. The tranquil atmosphere also makes this environment attractive for families. If you want to party, Saranda or Ksamil have more to offer.
In this article you will find out which are the most beautiful beaches and the best sights in Himara and its surroundings.
Best beaches in Himara
Apart from the city beach of Himarë, there are numerous beaches in the region where you can spend relaxing days. The Riviera is also perfect for beach hopping. The beaches are not far from each other, so you can explore a different stretch of coastline in the morning and afternoon. The smaller beaches in the region are pebble beaches. The long beaches are mixed with sand and covered with colourful pebbles.
Tip: For sensitive feet, it can be uncomfortable to walk on the stones, so we recommend you bring water shoes.
Personally, we liked the coast near Himara and Dhërmi much better than the famous beaches of Ksamil and Saranda. The bays in the south are small and there is not enough space for the many tourists. As a result, the beaches are constantly crowded. Himara and its northern neighbour Dhermi offer kilometres of pebble beaches and wide bays where you can have more privacy and avoid the tourist crowds.
Akuarium Beach
This tiny little cove is located north of Himarë, between Jale Beach and Livadhi Beach. It is a little gem nestled in a rugged, rocky coastal landscape. Akuarium Beach gets its name from its crystal clear blue-turquoise waters. The itty-bitty bay looks like a small aquarium. Because of the surrounding shiny rocks and the green background landscape, it exudes a bit of Seychelles flair.
You can reach Gjiri i Akuariumit from two directions. From Jale Beach you can drive there with a 4×4 vehicle or, if you don't have a 4×4 vehicle, you can walk there. A small trail also starts from Livadhi Beach: there is a tree next to the Blue Bay beach bar where you will discover the trail. Both trails are about the same length on foot (1.5 and 1.3 km). From Livadhi Beach, follow the red markings, otherwise you can easily get lost. First you walk along a somewhat steep path between bushes on the slope, then on an open dirt road. Both routes are also suitable for children.
You think that if the beach is not so easily accessible, there will be fewer visitors here. Unfortunately, this is not the case. Gjiri i Akuariumit became famous through social media. It adds to its popularity that you can also camp there. Already at 10 am, Aquarium Beach was crowded with bathers.
Tip: Right next to the popular Gjiri i Akuariumit you will find a slightly larger bay, Playa Ksabni. It may not seem as pretty as its smaller neighbour, but there are far fewer people there. You can also camp here.
Attention! There are no services at the two bays, even no rubbish bins. So take provisions and enough water with you. Bags for your rubbish are also useful and you can take them with you until you can dispose of them.
Livadhi Beach
Livadhi beach is wide and long and mainly covered with pebbles of different sizes. After the crowded Aquarium Beach, we welcomed the tranquility of Livadhi Beach. Due to the size of the beach section, the atmosphere is pleasantly relaxed and familiar, even during the peak season. The water only gets deep slowly and it is perfect for children to swim. The beach is full of sunbeds and umbrellas, which you can rent or take your beach towel with you. Just off the beach you'll find free parking, restaurants and cafes.
Kico Beach
Kico Beach is strictly speaking not a beach, but rather a pretty bathing spot with a restaurant. It is located south of Livadhi Beach in a small bay. The best way to reach Kico is by car. You drive from Himara on an asphalt road, then on a gravel road as far as you can go. Then you park at the edge of the dirt road and walk the last few 100 metres to the restaurant called Kico Meniko Himarë.
The restaurant's cute terraces are built on the slope above the sea. There are a few sun loungers with umbrellas or shady reed roofs. You can get into the water via stairs and ladders. The sea gets deep faster here. We recommend Kico Beach for adults and children who can already swim. The seabed is covered with large stones, so water shoes are necessary.
We found the atmosphere here really nice. Not only because of the charming location, but because there are a manageable number of bathers.
Gjipe Beach
Between Himara and Dhermi appears the stunning Gjipe Beach, where a gorge meets the open sea. The beach has a picturesque and somewhat hidden location. This tells you that it's not particularly easy to get to.
From the Gjipe Beach Parking (from 300 Leke ~ 2,5 €) you walk about 30 minutes on a steep path to the beach. You can also rent a jeep and drive there (other vehicles can't get there). The gravel road leads along the slope on the coast. You have a wonderful view of the Ionian Sea and Gjipe Beach. Another option is to go there by boat. In Himara you will find service providers who offer a water taxi.
Despite the difficult accessibility, many guests come here. It is advisable to come in the morning and move to another beach around noon. In the morning it is still relaxed here.
The sea is beautiful here. It shines with a clear blue colour and makes small waves. Gjipe Beach is the perfect place for swimming and soaking up the sun.
Camping is also allowed on Gjipe Beach. Many people camp here with tents and spend a wonderful night. On the beach you will find some small caves that you can discover at low tide. It is also worth taking a walk in the canyon. Small huts with shady overhangs offering cold drinks line the beach. You can also rent an umbrella and sun lounger for the day.
Sfageio Beach
Sfageio Beach is part of Himara's town beach. It's right next to Spile Beach and at the start of the pretty seafront promenade, which is lined with restaurants, supermarkets, ice cream parlours and souvenir shops. During the summer months, this is one of the most popular beaches you can visit. On the pebble beach you can enjoy the beautiful turquoise water. The water is shallow and very suitable for children.
There are many hotels and car parks nearby. The beach is very easy to reach. You cannot rent umbrellas or sunbeds at Himara town beach. You should bring your own beach towel and umbrella.
Jale Beach
Plazhi i Jalës is located north of Himara in a beautiful bay. It is a great beach with turquoise clear water, easy access and with many nice beach clubs. Parking and some hotels are also right on the beach. Jale Beach is ideal for families looking for a relaxing beach day in a beautiful setting.
Porto Palermo Beach
Palermo's beach is a must during your stay in Himarë. The beautiful bay lies just at the feet of Porto Palermo Castle and has waters that are bluer than the other beaches in Himare.
Tip: Porto Palermo Castle offers a great view of the coast. If you make the trip to Porto Palermo, you must visit the fortress.
We found the surroundings of the beach rather mixed. The nature is uniquely beautiful: rocky coastline and lots of greenery line Palermo's beach. Many agave plants grow on the slopes and stretch their blossoms into the air. Right on the beach, however, there are some run-down buildings and lots of boats and cars parked. Advantages of the beach are that it is easily accessible by car and there are not many bathers.
Borsh Beach
Plazhi i Borshit is a kilometre-long beach south of Himara (near Porto Palermo). It is a short drive from the town.
The beach is covered with a shining sand-gravel mixture, the water is deep blue and shallow. Plazhi i Borshit has a relaxed atmosphere. It couldn't be any other way: although there are some beach clubs and hotels on the beach, there are stretches where you can be away from others.
Borsh Beach is less frequented, yet it is very easy to reach and has all the services you need (restaurants, sunbeds with umbrellas and shops).
If you are looking for a quiet, long pebble beach in Albania for yourself or for your family, Borsh Beach is the one.
Buneci Beach
Buneci Beach is located south of Himara and Borsh Beach. The beach is easily accessible by car.
Tip: At the top of the main road you will find the Buneci view point, where you have a beautiful view of the whole coast.
Buneci Beach is embedded in a beautiful landscape: green mountains rise above the bay, the water is incredibly blue. The pebble beach is located in a valley and is off the beaten track. The ambience is relaxed, there are fewer holidaymakers, so you can chill out under a parasol.
This beach is also suitable for families. Amenities such as restaurants can be found a short distance along the beach.
Sights, What to do and see in Himara
In the town itself, but also a few kilometres away, there are numerous historical buildings that are worth seeing. Three jewels are Himara Castle, the small village of Vuno and Castle Palermo. We will tell you what else there is to see in the region in the next points.
Castle of Himara
Himarë has a rich history dating back to ancient times. An ancient Greek tribe founded Himarë over 2,500 years ago, which quickly became an important trading post and port. Throughout history, Himarë has been fought over by various empires. It was occupied by the Romans, Byzantines, Ottomans and Venetians.
The fortress of Himara is perched on the hill above the town, just a few minutes' drive from the beach. The first parts of the castle were built in the early centuries and were later extended by the Byzantines and the Venetians. Today it is quite a photogenic ruin. We found it one of the most beautiful ruins in Albania.
In its winding and plant-covered alleys are remains of houses, guard posts, storerooms and a small chapel with colourful frescoes.
If ruins don't easily impress you after all, then you will definitely be fascinated by the view you have from the top! On a clear day it is possible to see the green landscape, the turquoise waters of Livadhi Beach and even the Greek island of Corfu.
The entrance fee is 300 Leke (3 €).
Tip: It is common practice in Albania that entrance fees are not always charged and not at all sights. Often there was no one sitting at the ticket counter, but the area was open. Locals told us it was no problem, we could just go in. So don't be afraid, just go in. At the most, you'll have to pay when you leave the attraction.
Vuno – an insider tip in Albania
Vuno is a small village between Himara and Dhërmi. During our road trip through Albania, which lasted several weeks, we saw many pretty towns and drove through several villages, but you don't find such a sweet little gem everywhere. A small village in the rocky mountains with its beautiful white houses overlooking the deep blue Ionian Sea.
Vuno's beauty rivals that of the famous Albanian towns of Gjirokastra, Kruja and Berat. Charming cobblestone streets, authentic stone houses, charming grape arbours and colourful gates will make your travel heart beat faster. We're sure Vuno will steal your heart too!
One thing is for sure: the village is still hardly known. There were no masses of tourists. Vuno is not geared for that either. You won't find big restaurants or fancy hotels here.
Dhërmi
In the north lies the beautiful Dhermi with its picturesque old town and long sandy beach. The town looks similar to Vuno, but is somewhat larger and more touristy. Dhermi is also a popular destination for holidaymakers. There are some beautiful beaches nearby and the town also has a nice coastal promenade with several beach clubs. As part of a beach hopping trip, it is worth visiting Dhërmiu Beach and Palasha Beach or taking a walk along the streets of Dhermi.
The fortress of Ali Pasha in Porto Palermo
South of Himara is an old triangular fortress that dates back to the times of Ali Pasha. It was built in the early 19th century. Today it is considered a cultural monument and is the main attraction in the bay of Porto Palermo.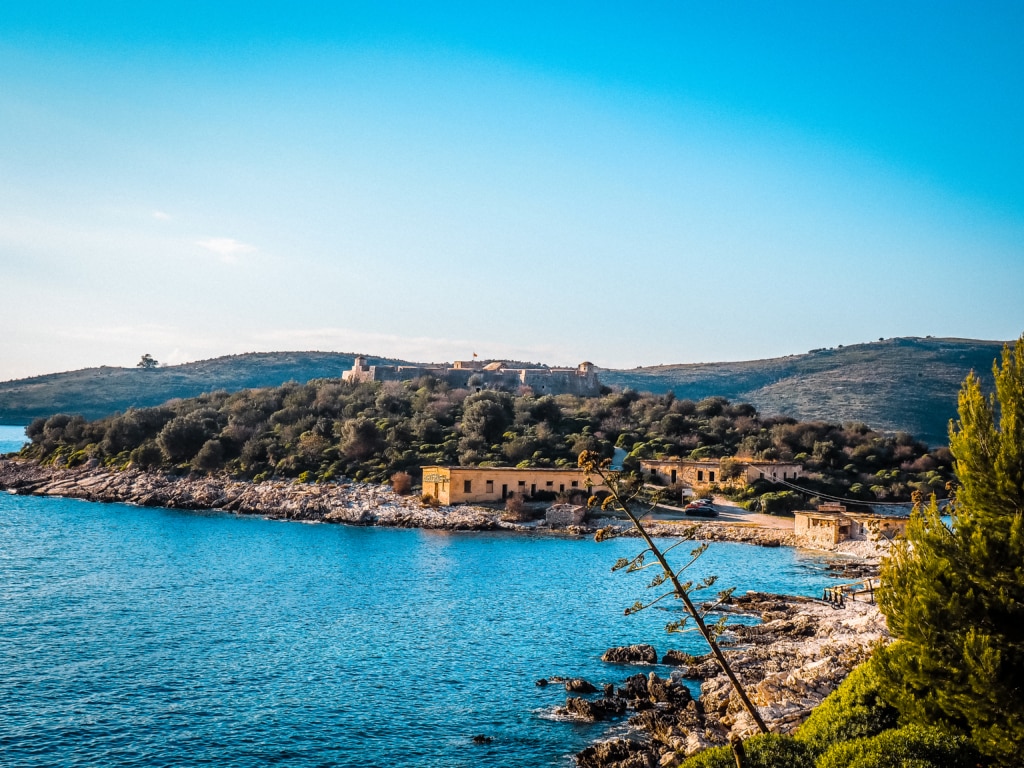 The impressive castle by the sea has several names, such as Ali Pasha Tepelena Fortress, Castle Palermo, Castello di Porto Palermo, Porto Palermo Castle or Ali Pasha Fortress.
This unique building has a somewhat eerie atmosphere. The rooms are dark and cold. They also have a similar layout. You get a glimpse of how the Ottoman ruler and his soldiers lived there.
You can even climb the stairs to the upper platform of the castle, where you have a great view of both the sea and the beach.
Entrance to the fortress costs 300 leke (€3).
Tip: Once you're done visiting, you can jump into the water right outside the door. The Porto Palermo Fortress is located on a peninsula connected to the mainland by a strip of land. This also serves as a beach with wonderfully clear water.
The Castle of Borsh
The Castle of Borsh is located south of Himara. It towers on a pointed hill above the community of Borsh. The fortress has a similar history to all the other ruins in Albania. It dates back to the 4th century BC and was later occupied by the Romans, Byzantines and in the 15th century by the Ottomans. In the 18th century the mosque was built.
Kalaja e Borshit can be reached via a winding, approx. 650 m long footpath. The ascent takes about half an hour. You can park your car at the foot of the mountain at the roadside. There is no car park. Entrance is also free of charge.
If you take the walk up, you can be sure that you will be alone. Borsh Castle is visited by very few people.
The best preserved (and really the only) building on the castle grounds is the mosque. You can still see the painted ceiling. All other parts of the castle are unfortunately in ruins. But the view of the tree-covered mountains and valleys below is truly remarkable.
Submarine Bunker near Porto Palermo
Along the road to Porto Palermo, there is a large submarine bunker that can be seen on the side of a hill just by the sea. Like most bunkers in Albania, this one was built during the reign of Enver Hoxha. Unfortunately, the bunker is located in a military exclusion zone and you cannot visit it inside.
However, there are a few viewpoints along the roadside that offer a perfect view of the bunker.
Sunset walk (xhiro)
The so-called "xhiro" is a must in Albania. It is nothing else than the evening walk along the waterfront or in the pedestrian zone of a city. At sunset, the Albanian cities come alive. Young people, older people, families and couples come out onto the streets to enjoy the pleasant temperatures, sit down in a café or have a chat sitting on a bench. It's a really great time where you can soak up the traditional Albanian flair. In Himara you can stroll along the town beach.
Hotel recommendation in Himara region
Since Himara and Dhermi are very close to each other, we booked accommodation in Dhermi. The new house Dima Vista* is located on top of the mountain and is accessible by car. It is further away from the beach, but is a new building, has free parking. What makes it even more worthwhile is the gigantic view you have from the balcony. The owner lives right next door and is always willing to help if you need anything.
Getting to Himara
Himara is about 4 hours south of Tirana and 90 minutes north of Saranda.
As Himarë lies along the main coastal artery, it is also easily accessible by bus from both major cities. There are several buses a day in the high season, fewer in winter. If you want to travel comfortably, take a rental car or drive your own car.
*Links marked with * are affiliate/advertising links where you benefit and we receive a small commission.