Car Hire in Albania: All you need to know
The capital – Tirana – is also the heart of the city. The city is not only considered a fast-moving metropolis, the neighbouring villages also offer space for nature and greenery for the inhabitants of Tirana. Therefore, the most beautiful cities and the beautiful landscapes are best reached with a rental car. Rental stations are present at the airport of Tirana or in the city of Tirana to start an adventurous journey. In the following, we tell you what you should consider when renting a car in Tirana:

What should I look out for when driving a rental car in Tirana?
The streets of Tirana can get crowded at peak times – so it's best to be prepared and patient. Of course, you should also know the most important traffic rules when driving a rental car in Albania. The traffic rules in Albania are similar to European standards.
What car rental companies are available at Tirana Airport?
There are numerous international and national car rental companies with rental stations at Tirana Airport, including:
Europcar
Hertz
Avis
Sixt
Enterprise
Renting a car from a local provider in Tirana however, is often cheaper than going with the big companies.
Are one-way rentals possible in Albania?
One-way rentals, i.e. dropping off your rental car at a location other than the pick-up station, are of course possible in Albania by prior arrangement. You have to consider thought that these will cost extra.
What are the refuelling policies of car rental companies in Albania?
Most car hire companies in Albania or Tirana offer a full/full policy, where you pick up your rental car with a full tank and return it with a full tank. This is the best way to drive.
With a full-empty arrangement, on the other hand, where you pick up the rental car with a full tank and return it with an empty tank, you are more likely to make a loss. This is because an expensive service charge is often added to the rental price for the first tank of petrol, and the petrol that is still in the tank when you return the car is given to the car rental company as a gift.
What insurance options are available for rental cars in Albania?
The basic insurance is included in your booking. In addition, rental companies offer various service packages that provide you with tailor-made insurance cover. The basic package includes comprehensive insurance with excess.
A service package with "comprehensive insurance and reimbursement of excess" is recommended. You can extend this if necessary, for example to include glass and tyres or an additional driver. This way you are optimally covered and can consider in good conscience beforehand whether you want to buy further additional insurance on the spot.
Is there a minimum age for rental cars in Albania?
Driving a car in Albania is allowed from the age of 18, which is why this is also the minimum age when booking a rental car. However, some car rental companies set the minimum age for drivers of a rental car even higher. Depending on the type of vehicle, such as an SUV or a high-priced model, a minimum age of 21 or even 25 may also be required. In addition, some require you to be in possession of your licence for at least 1-2 years.
Do I need a credit card to book a rental car in Tirana or other places in Albania?
Often, yes, you must always present a valid credit card at the time of pick-up. Make sure that your card is indeed a credit card. Some debit cards look very similar to credit cards but are not accepted by car rental companies. If in doubt, contact your bank and ask. There are also rental car companies that offer cash payment and cash deposits.
How much is the deposit for a rental car, e.g. from Tirana?
The amount of the deposit depends on the type of car you want to rent and the car rental company. It is best to check with the car rental company about the amount involved before booking.
What do I have to consider when returning my rental car?
Depending on the fuel arrangements you have made, you should return the car with a full tank or with as empty a tank as possible. It is best to get written confirmation that the car is in perfect condition and that the tank is full when you return it. This way, you are on the safe side and can end your holiday completely relaxed. Some companies also require you to return the car cleaned or clean (as delivered).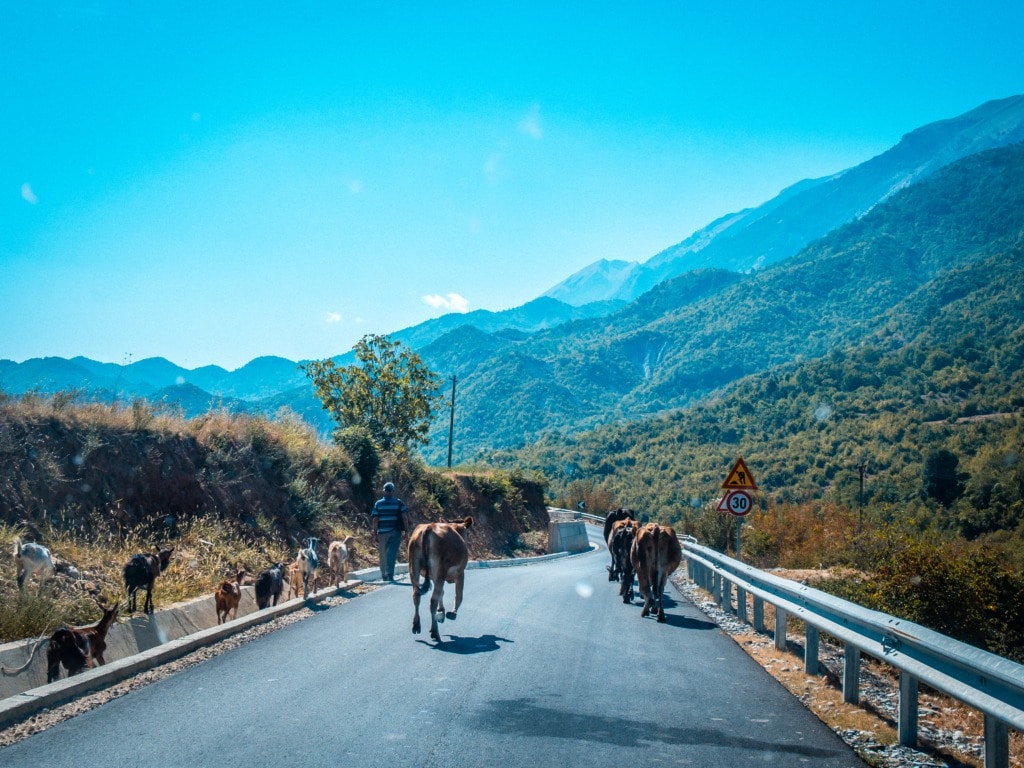 Is driving in Albania safe?
The answer to the question "Is driving in Albania safe?" is yes for drivers who have had more than one year of experience driving in other countries, and no for novice drivers, as there are still potholes and unmarked road repairs. Nevertheless, the Albanian government has made road repair one of its top priorities in order to reduce the number of accidents and encourage more tourists to drive whenever and wherever they want.
Speed limits in Albania
The speed limits in Albania are indicated on the roadside in kilometres. The speed limit is 40 km/h inside built-up areas, 80 km/h outside built-up areas, 90 km/h on motorways and 110 km/h on motorways.
Insurance conditions:
Depending on the car, a security deposit of €250-€400 may be required by credit card upon collection (reservation on card).
The vehicle is provided with a full tank of petrol and is to be returned with a full tank.
The vehicle will be delivered clean and must be returned clean (interior cleaning at the car wash is available in Albania for 500 Lek or approx. €4).
In case of an accident that turn out to be caused by you as the driver, the driver bears 20 % of the costs, the insurance covers 80 %. (This regulation is standard in Albania and may differ from those in other countries). A 100% comprehensive insurance, incl. glass and tyres, can be added for 12 EUR per day.
Due to the mediation of Abenteuer Albanien, the rental contract is concluded directly with the car rental company on site and is based in detail on the respective rental conditions of the car rental company. Should you have any further questions, please do not hesitate to contact us.