BACKPACKING IN ALBANIA
Breathtaking beaches, bizarre mountain landscapes, old villages and dynamic cities – and all this far away from mass tourism. This is how we experienced Albania during our first 2-week trip. What we liked most was the diversity of Albania, the untouched nature and beaches, the openness of the country, the affordable prices and the hospitality of the Albanians. In short, the Balkan country in south-eastern Europe is a travel paradise and not too crowded. This makes backpacking in Albania a real adventure.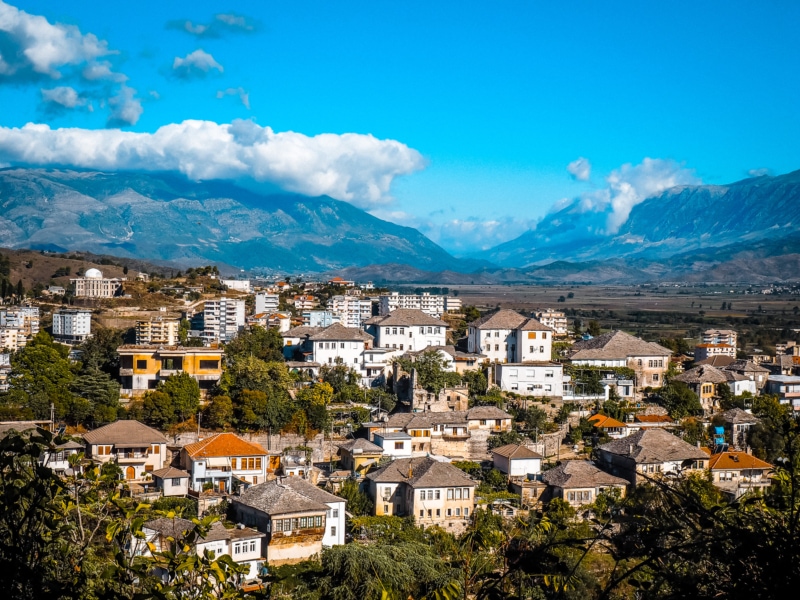 Where exactly is Albania? It borders Montenegro and Kosovo to the north, Macedonia to the east, Greece to the southeast and south, and the Adriatic Sea and the Ionian Sea to the west. Unlike in its neighbouring countries, tourism in Albania is still young, as travel was forbidden for years under the communist regime. As the country is still one of the poorest countries in Europe, tourism is an important economic sector and in many areas the only source of income for the inhabitants besides agriculture. Today, Albania is particularly popular as a tourist destination among its own population as well as residents from neighbouring countries. Western European tourists usually come for a day trip by boat from the Greek island of Corfu.
Beaches in Albania
Albania's increasing popularity is no wonder: travel guides praise the Albanian hospitality, reasonable prices, the vibrant cities – with plenty of evening life – and the good food. A fresh burek or pite, a traditional pastry dish filled with cheese or spinach, can be had on the street for as little as 1.50 EUR.
14 national parks are spread across Albania and include mountains, pine and pine forests and glacial lakes. There is also the Karaburun marine reserve. The cities in Albania are also worth a visit, such as the capital Tirana or Berat, one of the oldest cities in Albania, whose old town is characterised by Ottoman architecture. It has been a Unesco World Heritage Site since 2008.
The mountains in the southwestern part of Albania are called the Albanian Riviera. The area is only sparsely populated and is dominated by steep coastal sections. Numerous hotels for beach holidaymakers have been built here in recent years. Albania has everything to offer for hiking, adventure, climbing, swimming and beach holidays. However, many areas and islands are not yet developed for mass tourism, and many of Albania's roads are difficult to drive on. That's why backpacking in Albania is one of the best ways to get around the country.
Safety in Albania
Is Albania safe? My answer to this question is YES. I was surprised how safe you feel in Albania, to be honest. Strolling through the streets of Tirana in the evening feels safer than some corners of Berlin at the same time of day. In addition, life in Tirana still pulsates even at late hours and you are rarely alone on the street. However, as with any trip, you should take out overseas health insurance, which guarantees you free medical care in the event of an emergency.
Culture in Albania
Around 2.8 million people live in Albania today. About 57 per cent describe themselves as Muslims; about 17 per cent as Orthodox and Catholic Christians. Albania has a turbulent history: For more than 40 years, the country was led by the communist party "Party of Labour of Albania" under Enver Hoxha. At first, Albania was part of the Soviet Union and, from 1961, an ally of the People's Republic of China. This was followed by a long phase of foreign policy isolation. After the dictator's death in 1985, it took another five years before the communist regime was overthrown and the country opened up. It was not until 1991 that the first free elections took place.
Today, Albania is a member of Nato and the United Nations, but it is still one of the poorest countries in Europe. The average monthly wage is around 400 euros gross. Since 2020, Albania has a good chance of becoming a member state of the EU. However, there are still some things that need to change before it can become a member, such as corruption. In the country ranking on Transparency International's corruption index, Albania was in 106th place out of 180 countries surveyed in 2019 – behind countries such as China, Ethiopia or Turkey. Improving infrastructure is a requirement for future EU accession.
During communism, the practice of one's religion was forbidden in Albania; only after the fall of communism in 1990 was the ban lifted. Even today, Albania is often referred to as a non-denominational state. The people are committed to hospitality and community. Today, the different religions can coexist peacefully. As a sign of tolerance and openness towards religions, a mosque and a church stand side by side in Shkoder, a small town in northern Albania.
In Albania, Albanian is spoken almost exclusively. In the southern part, a minority speaks Greek. Albanian itself has two major dialect groups: Gegean and Tuscan. They differ in sound and grammar, but it is still possible to communicate with each other. You can get by in Albania with English – especially in the cities. The golden eagle on the Albanian flag symbolises courage, heroism, bravery and freedom.
Backpacker Budget for Albania
As mentioned above, Albania is a poor country. Accordingly, you can make ends meet on a budget during your trip. A coffee costs about 1 euro, a beer up to 3 euros and a lunch including drink and dessert can be had for as little as 10 euros. Of course, you can buy food even cheaper in local markets or small supermarkets, which you can find on every street corner in the cities. A rental car for a day, for example, costs 26 to 30 euros. The most expensive thing about Albania, however, will be the fuel prices, for which you should allow between 1.35 and 1.50 euros per litre.
Entrance fees to museums are usually around 2 euros, and for outdoor activities such as white-water rafting you should budget around 40 euros. A daily budget of 20 to 25 euros is sufficient, and with an average of 25 to 35 euros you can treat yourself to something or live well on the road.
In Albania, you pay in Albanian lek; euros are not accepted because Albania is not part of the EU. EU-wide data roaming does not apply either. So there are charges for using the mobile internet. In most cities, you can pay by card in hotels and restaurants and change money at ATMs. In more rural or mountainous areas, however, you should have enough cash with you and rely on exchange offices, which you can find on every corner – as well as petrol stations.
Cash is still the basic means of payment in Albania. However, you should not stock up on Albanian lek before you leave. Instead, it is worth taking enough cash with you and exchanging it locally. The exchange rate is better at home. Ideally, you should spend all your lek in Albania during your trip; the exchange rate for converting it back into euros is usually poor. Hagglers beware: If no prices are given in markets or by traders in Albania, haggling is quite common.
Backpacker routes in Albania
Albania is best explored on a round trip, starting and ending in the Albanian capital Tirana. It has a quiet airport where international flights land. It is also advisable to stay overnight in the cities of Tirana, Durrës, Serranda and Ebana and make excursions from there into the surrounding area and to the sights.
The best way to get around Albania is with your own car or a rental car. These are not expensive, only the fuel is. The price of petrol is roughly in line with German standards – but there is not much difference between diesel and petrol. However, you will certainly drive very fuel-efficiently in Albania. Fast driving is not possible on the roads, especially in the hinterland and in the mountains. The large and frequently used roads are generally all asphalted and in good condition.
However, the further you get from cities, the more adventurous the roads can become. There are many potholes and some roads are just rubble and stones, so you should check in advance in a travel guide or on the internet which roads are passable and which are not. Especially if you are going to the mountain regions.
Public transport is not very well developed. However, if you want to see the really great places, you will need your own car or a ride. However, you don't have to worry about refuelling, as there are petrol stations everywhere, even in the smallest villages.
Here are two suggested itineraries for your backpacking trip through Albania. Both follow the same itinerary, but have different numbers of sights. Of course, the route can also be travelled the other way round.
Route 1: Albania short trip (at least 7-10 days)
2 days: Tirana, Kruja
(1 day Shkoder)
1-2 days: Durrës, Berat, Ardenica Monastery
1-2 days: Permet, Langarica Canyon
1-2 days: Saranda, (Butrint)
1 day: Gjirokaster, Blue Eye Saranda
1 day: Pogradec & Lake Ohrid
Route 2: Albania Intensive Holiday (minimum 21 days)
3 days: Tirana, Rubik, Kruja
2 days Shkoder
2 to 3 days: Durrës, Berat, Ardenica Monastery
2 days: Vlora, Llogara Pass, Porto Palermo
2 days: Permet, Langarica Canyon
2-3 days: Saranda, Butrint
2 days; Gjirokaster, Blue Eye
3 days: Dardhe, Voskopoja, Korça
1 day: Pogradec & Lake Ohrid
2 days: Elbasan, Gramsh, Tirana
Best time to travel to Albania
The best times for backpacking in Albania are spring from April to June or autumn in September and October. Then it is neither too hot nor too cold and the rainfall is limited. Summers in the lower-lying areas tend to be very hot and winters remain mild. From May to October you can swim in the sea with an average water temperature of 23 °C.
Backpacker accommodation in Albania
Everything in Albania is cheaper, but also of a lower standard than in Germany, which is not necessarily a bad thing. Since many Albanians live off tourism, it is also very important to them and they are very friendly and eager to make your stay as pleasant as possible.
Hostels are the cheapest accommodation option for backpackers in Albania besides camping (apart from free wild camping). You can also find cheap hotels, but these are of a much higher standard. On the Riviera you will find the most expensive hotels in Albania. You can also book authentic and beautiful accommodation via AirBnB, but these are sometimes even more expensive than some hotels.
Hotels, hostels and motels in Albania
The most beautiful hotels can be found in Albania's capital Tirana and along the coast of the Ionian Sea. A 3-star hotel room is available from 25 to 50 euros per head, some from as little as 20 euros. Early bookers can also get a 5-star hotel room with spa for 50 euros a night. The prices are open to the top. There are fewer motels in Albania, as the motorway and road network is one of the youngest in Europe.
Hostels, on the other hand, are very affordable in Albania. An overnight stay in a 4- to 6-person dormitory usually costs between 5 and 10 euros. According to Hostelworld, a hostel night in the different cities of Albania costs on average as follows:
Tirana: 15 to 20 euros
Shkoder: 10 to 16 euros
Saranda: 14 to 18 euros
Berat: around 15 euros
Himare: 15 to 20 euros
Camping in Albania
In Albania, campsites are simply equipped and yet offer everything you need. The price-performance ratio for an overnight stay with a tent, camper or motorhome is favourable at 10 to 15 euros. Wifi is usually included, if it is available. However, the condition of the campsites cannot be standardised – you can find everything from non-existent to poorly maintained to clean and modern sanitary facilities.
You can find campsites south of the coast of Durres, north of Sarande, at Livadhi Beach near Himare, near Berat, in Gjiokastra, at the Koman reservoir and in the Albanian Alps (such as in the Valbona Valley), in fact everywhere in Albania.
Wild camping is also accepted in Albania, unlike in the other Balkan countries. The only restrictions are national parks and private land. Of course, you should leave your campsite as you found it – without rubbish or other traces – that goes without saying.
Couchsurfing and Airbnb
Airbnb and Couchsurfing are used in Balkan. With Airbnb, however, you can often find rather luxurious or even unusual accommodation in the coastal region or other tourist hotspots, which can easily cost up to 40 or 50 euros a night. You can at least find very nice families via Airbnb who will let you use their couch for a night. Albanians are a very hospitable people. However, as in other countries, you should avoid open requests or last minute requests, as these could attract the wrong clientele, who tend to use Courchsurfing as a dating platform. Even if you are travelling solo, you should have no problems finding a nice and decent host in Albania.
Backpacker Trips & Tips for Albania
If you are in Sarande, it is also worth taking a day trip or several days to the Greek island of Corfu. Ferries depart daily at various times to and from the island. A trip costs around 20 to 25 euros and can be booked directly at the port. Long-distance ferry connections to Corfu are available from Durres or Vlora.
Backpacker Highlights in Albania
Albania's capital Tirana is a skilful mixture of Italian country villas, magnificent buildings and Muslim Balkan architecture, typical of Albania. Tirana's landmark is the equestrian statue of Skanderberg, closely followed by the Et'hem Bey Mosque and the clock tower. All of them are well worth seeing.
Near Saranda is the Syri i Kalter National Park. Syri i Kaltër means something like "blue eye". There, on the western slope of the Mali i Gjerë Mountains, you will find the spring with the most water in Albania, the water flowing into the Ionian Sea. The depth of the spring is still unknown. In the sunlight, the water has a deep blue colour.
Albania lures with dreamlike white beaches and turquoise water, like on France's Côte d'Azur. Only that it is far less crowded. The villages on the steep coast of the Albanian Riviera are picturesquely situated and the lonely bays can be easily observed from the Ceraunian Mountains. Outdoor fans rave about the hiking opportunities in the Albanian Alps.
The Lloagara National Park is located in southern Albania in the Ceraunian Mountains. It was founded in 1966 and covers 1010 ha. Its purpose is to protect the pine forest on the northern side of the Llogara Pass. In the vicinity of the national park you will also find several caves with prehistoric rock paintings.
Another popular destination in Albania is the Butrint National Park, which is not far from Ksamil. Here you will find the ruined city of Butrint. Its history goes back to the 10th century. Situated on a peninsula, the city was heavily fought over. Magnificent buildings, streets and fortifications still bear witness to the importance that Burint once had. The medieval towns of Berat, Gjirokastra and Shkodra also bear witness to ancient history. They are set in beautiful landscapes and even survived the reign of the Stalinist dictator Enver Hoxha.
Berat offers something very special: within the castle walls there used to be not only the homes of the court servants, churches and monasteries, but also those of craftsmen, restaurants and taverns, hostels and general shops. Even today, people live and work within the old walls. The Mangalemi neighbourhood below the fortress of Berat was once reserved for Muslim residents and is spectacular. Its mostly two-storey houses crowd the steep slope of the fortress. That is why Berat is also called the city of 1,000 windows.
Gjirokastra is also popular. It is located in the mountains in the south of Albania and is a Unesco World Heritage Site because of its historic old town. The mountain town is criss-crossed by steep cobblestone alleys. The castle of Gjirokastra towers high above the city. Ottoman fortified tower houses are perched on the hills of the various parts of the city. The view is simply fantastic.
Equally worth seeing is Shkoder: the picturesque town is the cultural centre of northern Albania. With over 140,000 inhabitants, the 2,400-year-old city is the fifth largest city in the country. The old fortress of Rozafa offers a breathtaking view over Lake Shkodra, while the pastel-painted buildings in the old town have a distinctly Italian ambience. Many travellers rush through here while travelling between Tirana and Montenegro. But spending a day or two in the historic city is well worth it.
Backpacker insider tips in Albania
Albania itself is almost still an insider tip in Europe, which will make your backpacking trip a special adventure. The Albanian coast is still lonely and undeveloped. But that is slowly changing. Albania is attracting more and more curious visitors. That is why the Albanian government has continuously invested in the restoration of popular holiday resorts in recent years.
However, the Albanian Alps are still a real insider tip. If you want to experience the traditional Albanian way of life on your backpacking trip through Albania, enjoy hiking and interact with the locals, you should definitely pay them a visit. The so-called 'cursed mountains' may sound a little daunting in name, but the land of blood feuds and folklore also has a gentle side. This awaits you in the tiny mountain villages where farmers live on their farms. In Theth National Park, for example, you can explore spectacular mountain peaks, hidden waterfalls and the "Blue Eye of Kapre", a turquoise pool with its own waterfall.
You may also notice the many bunkers in the landscape during your trip. There are around 700,000 of them. They were built by the former dictator to protect the country from an invasion that never happened. Now the Albanians can't get rid of the "betonufos". But it seems that today they are mainly used as meeting places for young lovers. Some have also been converted into wine and mushroom cellars, mini-hotels or even discos.
Food & Drink in Albania
Food plays an important role in Albanian culture. It is common for Albanians to invite each other for a meal from time to time. Albanian food has a lot of Mediterranean influence and is somewhat similar to Turkish cuisine. The thing that stands out about Albanian cuisine is the heavy use of olive oil in almost all their dishes. When it comes to vegetables, the cuisine includes varieties such as peppers, cabbage, courgettes, cucumbers, spinach, potatoes and aubergines. Common Albanian spices and herbs are garlic, onions, basil, mint and oregano. Their meat dishes vary from chicken, veal, lamb, goat and beef. Due to the proximity to the sea, fish plays an important role in the national cuisine from time to time.
A typical Albanian appetiser, for example, is tarator, a cold cucumber soup made of cucumber, garlic, yoghurt, water and dill, which can be very refreshing on a hot day. You can also have dried or salted meat served as an appetiser. The main courses of the Albanians are even more hearty: A popular dish, for example, is a kind of börek, called byrek in Albania. The Albanians have modified what we mostly know from Turkish. They traditionally fill their byrek with savoury or spinach. Cheese or meat are also popular. Pita bread is usually served with the main course.
Another speciality similar to Turkish cuisine is petë. It is a pizza variant, similar to the Turkish pide, which consists of several layers of yeast dough. Sheep's cheese, beans, onions or spinach are good fillings. Baklava or lokum, also known as Turkish Delight, is a popular dessert.
Backpacker visas and vaccinations in Albania
German citizens do not need a visa for a tourist stay in Albania of up to 90 days. However, if you are planning a longer stay, you must register this with the Border and Migration Directorate within the first 30 days and apply for a residence permit there, including submission of an apostilled German certificate of good conduct.
According to the entry regulations of the Foreign Office, entry is possible with the following documents:
Passport: Yes
Temporary passport: Yes
Identity card: Yes
Temporary identity card: No
Children's passport: Yes
Note: Travel documents must be valid for at least three months at the time of entry.