Rental Car Holiday Package Albania (14 Days, self-drive)
14 Days self-drive round trip with rental car: Highlights of Albania like Tirana – UNESCO World Heritage City Berat – Osumi Canyon and Bogove Waterfall – Ohrid Lake – Korca – Lin & Voskopoje – Gjirokaster – Saranda – Blue Eye & Burtint – Himara – Llogara Pass & Coastal Roads – Durres – The Best Tips for Restaurants
The Balkan country Albania is safe to travel to and has much more to offer than mountain sceneries. A rich ancient past, unspoilt coastal landscapes and friendly and hospitable inhabitants. Experience your own Albanian adventure with a rental car!
A diverse mix of experiences awaits you on our 14-day car rental round trip to the south of Albania. Enjoy the relaxed atmosphere of the Albanian Riviera in the south. The small country with its hospitable people enjoys 300 days of sunshine a year, making it one of the sunniest countries in Europe. Look forward to tasty Mediterranean cuisine, friendly people, beautiful beaches with crystal-clear water and UNESCO World Heritage Cultural Sites.
Day 1: Arrival, Day 2 Tirana
From your departure airport you will fly to Tirana, the capital of Albania. After landing, you will pick up your rental car for the entire tour at the airport. After the drive to the hotel and check-in in your room, you will still have some time to explore the city, depending on the flight time. The following day you will spend in Tirana. Visit the BunkArt Museum in the bunker network from the communist era or take the cable car to Mount Dajti with fantastic views over the city. In the evening, follow our restaurant recommendations to start your trip on the culinary path.
1x Breakfast
Day 3 & 4: Berat and surroundings
Today you will travel from Tirana to the UNESCO World Heritage City of Berat. There you will move into your accommodation for the next 2 days. At sunset, explore the castle of Berat (Kalaja e Beratit) with magnificent views of the valley of the Osum River and then enjoy the local delicacies.
The following day you will have time to explore the city's museums or go on an excursion to Bogove Waterfall and Osumi Canon. We can also organize a wine tasting at one of the many estates in the region. Just ask us!
2x Breakfast  Driving distance by car approx. 100 km
Day 5 & 6: Korca and Lake Ohrid
The next two days will take you to rural Korca. You will spend the night in Korca or, depending on your wishes and availability, directly at Lake Ohrid. The old trading town of Korca is considered the birthplace of Albanian literature and is often referred to as the "cradle of Albanian culture". Stroll along the tree-lined boulevards, discover the remote mountain villages in the area where time seems to stand still, or explore the shores of Lake Ohrid by bike.
2x Breakfast  Driving distance by car approx. 190 km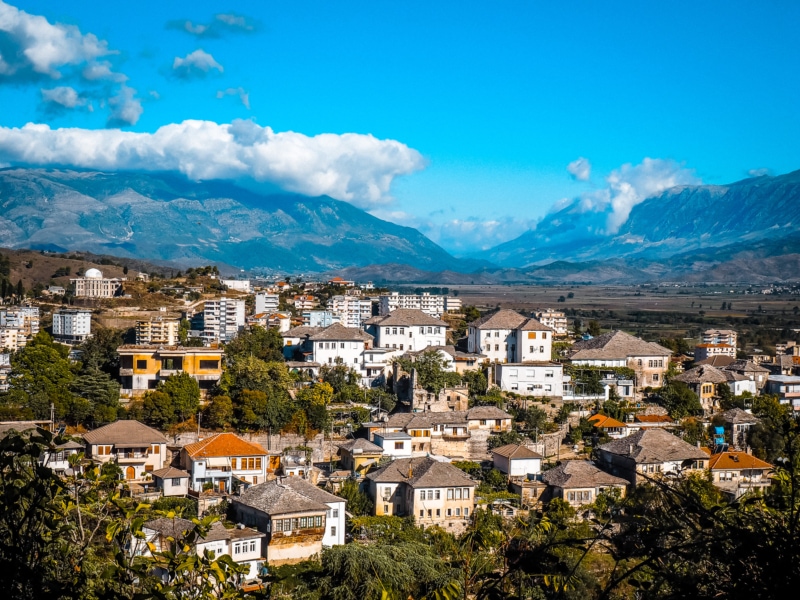 Day 7 & 8: Gjirokaster
After checking out of your hotel, you will continue your journey towards the southwest. The drive takes you along lonely hilly landscapes and past picturesque views of the last wild river in Europe, the Vjosa. When you arrive in Gjirokastër, you will be greeted by more great views from the castle down into the valley. Follow our recommendations and enjoy dinner with an Albanian family in the surrounding hillside villages. The next day, it's worth visiting one of the town's old stone houses, which have been converted into museums or strolling through the bazaar.
2x Breakfast  Driving distance by car approx. 195 km
9.Tag: Blue Eye und Saranda
Der nächste Tag führt euch in die Küstenstadt Saranda. Wir empfehlen einen Stopp am Naturphänomen des Blue Eye (Syri i Klater), um den Blick ins tiefblaue Wasser der Karstquelle zu genießen. In Saranda angekommen, warten unsere Empfehlungen für die besten Fischrestaurants der Stadt auf euch. Das Ionische Meer lädt mit seinem klaren Wasser zum Baden ein und ihr könnt von der Promenade aus den Sonnenuntergang über dem Meer beobachten.
1x Breakfast  Driving distance by car approx. 55 km
Day 10-12: Butrint & Himare
For the morning of the next day, we recommend an excursion to the UNESCO World Heritage Site of Butrint. After you have marvelled at the scenic site, the route takes you onwards along spectacular coastal roads, past Porto Palermo castle and the nearby Submarine Bunkers, and finally to Himarë. Himarë is considered one of the most beautiful towns on the Albanian Riviera and offers the perfect mix of beach holidays, beautiful surrounding bays and good culinary infrastructure.
Now it's time to relax on the beach. We recommend you the best of the local and surrounding beaches and restaurants. If you fancy, we can help you with a boat trip to explore the surrounding bays and beaches from the water.
Driving distance by car approx. 50 km
Day 13: Llogara Pass
Today's tour takes you further north along picturesque coastal roads and small settlements up to the Llogara Pass. After you have checked into your room, you have the option of a short hike along Caesar's footsteps to enjoy the view of Palase from the pass. For dinner, enjoy the local food or visit a small family-run winery nearby.
1x Breakfast  Driving distance by car approx. 30 km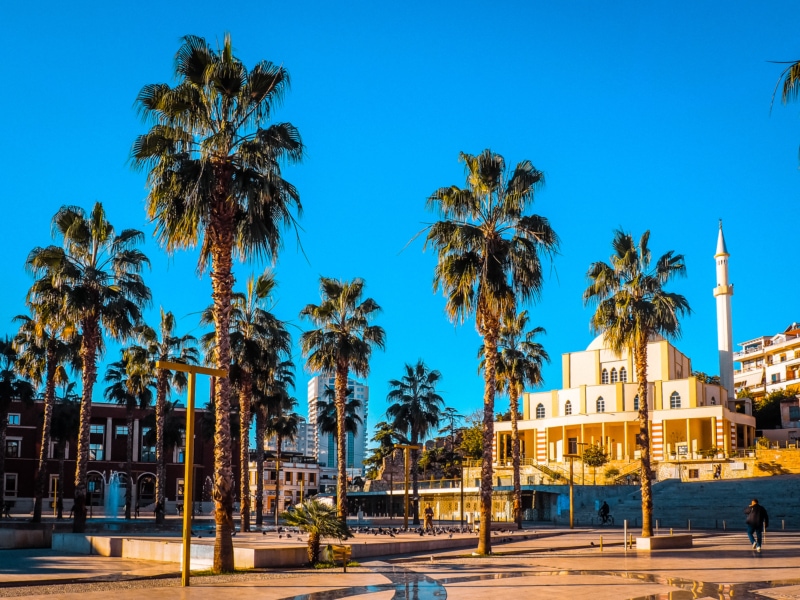 Day 14: Durres
The following day will take you to the Adriatic port city of Durrës. On the way, we strongly recommend a stop in Vlora to eat in one of the best fish restaurants in the country. Once in Durrës, you can marvel at the archaeological remains of Roman and Venetian rule, stroll along the boulevards or enjoy cocktails in one of the numerous beach bars right by the sea.
Durrës is only about 30 km away from the international airport in Tirana and guarantees you a relaxed departure the next day. This is the end of your adventurous round trip, and you fly back home with many wonderful impressions of Albania.
1x Breakfast  Driving distance by car approx. 30 km
✓ Spend a wonderful holiday in Albania with a rental car. In 14 days you will experience the highlights of the country with Tirana, Berat, Gjirokastër, Korca and Lake Ohrid, Saranda and Butrint, Himarë and Durrës. Travel on your preferred date with our recommended itinerary and the best recommendations in your pocket, or change the itinerary as it suits you. You decide on your activities and excursions during your round trip! We take care of the rental car and all accommodations, including breakfast. Everything can be customized.
✓14 overnight stays: Good to very good hotels/guest houses, breakfast included.
✓ Don't miss a highlight: The best tips for activities, excursions, restaurants and stops along the way from us as local experts.
✓ Your advantages when renting a car with us: You book everything from one source and have a contact person 24 hours a day for any emergencies.
✓ Guided city tours, boat tours, rafting tours, canyoning, tickets or other organized excursions, can be booked through us upon request.
✓ The driver of the rental car HAS TO BE at least 26 years old and in possession of a credit card. No other cards are accepted. This must be shown when picking up the rental car in order for the designated deposit to be blocked.
Start/End                                             Tirana
Duration                                               14 Days, flexible
Reisezeit                                               Mai – Sept.
per person                                            € 1300,00
(in a double room)  
↓ Share this tour with friends ↓
Frequently asked questions
What are the roads like in Albania?
Albania has one motorway and many state roads, and a lot has been done in recent years. With a few exceptions, these are generally very good to drive on. Nevertheless, the conditions are not comparable with German roads, because in Albania you basically have an animal or an unusual vehicle in front of or next to you every few metres.